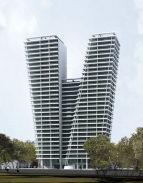 New luxury high-rise apartment building
Milevská St., Prague 4 – Pankrác
Investor: LANCASTER a.s.
Author: Radan Hubička Architectural studio,
Ing. arch. Radan Hubička
Designer: DELTAPLAN
Investment: cca 80 mil. EUR
The project of a luxury high-rise apartment building Epoque Pankrác makes DELTAPLAN studio in cooperation for Radan Hubička Architectural studio.
The prime professional objective of this project was to compose nexus between the newly designed apartment building and other existing buildings on the Pankrác plain on the remaining grounds of Pentagon area.
Therefore, the panorama has been completed by a solitary high-rise building, which, by its clearly identifiable sculpture-like form, harmoniously perfects current skyline.
The "V"(Victoria) form of the design symbolizes candidness, freedom, joy and optimism. It also introduces two parts – male and female principles – Jin and Jang.
The "V" building – apartment house is designed with its "V" front facing plumb to the axis of Prague Castle.
The glass walls are significantly recessed, which makes the building look subtle even from a distant viewpoint as the glass will not reflect light. The roof design allows for gardens with embedded swimming pools.
Visible solid structures are white; the frame line (partitioning, sliding wall framework) has been completed with natural aluminium finish. Glass panes are clear, transparent and non-reflective. The main aim was to unify all the colours and materials used for structures built in the Pentagon area.