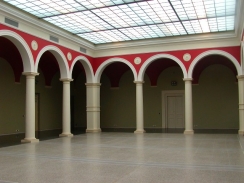 Reconstruction and completion
U Starého výstaviště 188, Prague 7 – Holešovice

Investor: Akademie výtvarných umění Praha
Designer: DELTAPLAN
Author: JIRAN KOHOUT architekti
The building is located at the edge of the historic royal park where a social exhibition, Areal Výstaviště is situated. The Areal Výstaviště is a site of the former Land Jubilee Exhibition from 1891, which included the building of the Modern Gallery. The building was designed by Antonin Wiehl in 1891 and is a protected site. The extension is therefore conceived as an underground object, which does not interfere with the existing urban structure, it only adds some small overhead technical or operational character.
AVU has been using the house since 1893 with the main entrance from the courtyard side, away from Stromovka. The proposal confirms the paradox of the main entrance from the courtyard and uses it for the completion of the underground. The extension is divided into two areas: a two-storey underground volume beneath the courtyard at the south and a one-storey facility underground the graphics workshop in the North, on the boundary of the property. The artistic aim of the proposal was to purify the original Wiehl historical building from the later ill-conceived extensions.
The underground building is recognisable from the exterior only as a composition of "dry" garden with skylights at ground level. The only revealed part of the building is its south-western corner which is at the same time the only proof that the original building has received modern underground enhancement.