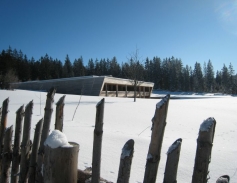 Exceptional luxury mountain residence
Modrava, Šumava moutains, Czech Republic
Provider: Metrostav a.s. and smaller suppliers
Author: Ing. arch. Radan Hubička
Designer: DELTAPLAN
Radan Hubička architectural studio
Finished: 2008
Investment: not stated
Project of exceptional high standard house in Modrava was made by DELTAPLAN studio in cooperation with Radan Hubička architectural studio.
The house is sensitively set in the glade bordered by deep forests in Šumava Modrava. It's situated two hundred meters above Klostermann Cottage on the site of the originally intended, never finished, three-story building of the Border Guard.
It is a low energy ecological house, which is thermally isolated by the soil on the roof and the embedment into the hillside. The heating is provided by heat pumps (ground-air). There is no similar ecological house throughout the Czech Republic.
The facade is decorated by ten tree trunks that support a roof covered by greenery. The building is lined with stones and wood. The house's foundation of dimensions 30 x 40meters, is recessed into the hillside and is partly built on a rock. Despite the great size the house doesn't look massively. It is thanks to the fact that is largely embedded in the terrain. The entire front wall of the house is "glazed". Some special clear acrylic plates were used, which had to be made in the USA and Germany due to their size.
For the rough shell construction of reinforced concrete was used over 2500 cubic meters of concrete and 170 tons of iron fittings. Width of outer walls is 40 cm, the inside walls have a width from 30 to 60 cm.
Source of information and websites of the Modrava House:
http://www.dum-modrava.cz/