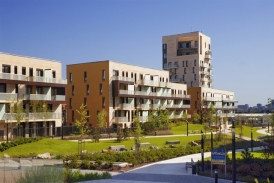 New luxury residential complex
Prague 4, Baarova street
Building area: 3 758 m2
Dwelling area: 12 355 m3
Total number of apartments: 139
Number of parking places: 296
Investor: Rezidenční park Baarova, a.s.
Supplier: PSJ, a.s.
Designer / Coordination: DELTAPLAN
Author, General Designer: CMC architects, s.r.o.
The intended outcome for the completion of the Residential Park Baarova is based on the investor's intention to create a specific complex in a residential area providing a new facade. Complementing and supporting the original villa buildings and the multipurpose BB Centrum.
The complex consists of three separate bodies. Between these a modern atrium is created. The separate bodies are interconnected by underground garages.
This residence has private sports facilities and a minimum share of administration incorporating a courtyard, designed as a relaxed zone with a unique atmosphere. Areas outside the housing complex are designed as a public parterre with greenery, sidewalks and parking spaces.
The load-bearing structures in the underground floors of the buildings are made of reinforced concrete frames with flat slab ceilings on columns and walls of communal areas. Load-bearing structures in the upper floors are made of monolithic concrete. The stair and elevator cores are supported by further load-bearing walls. The facade walls are also used as carriers. The walls are made of baked brick blocks with improved sound-insulating parameters. The stairs are prefabricated. The facades are made from a combination of stone cladding on the base grid with insulation, tiles and slabs of eternity desks and a classic contact heating system. The external windows are EURO wood.
Deltaplan prepared the documentation for the building permit and completed execution of the project.