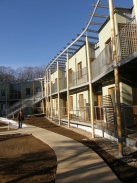 Reconstruction and extension
Vinohradská 1201/159, Prague 10
Awarded Building of the year 2008 – President of the Senate award
Investor: Jewish Community of Prague
Provider: HOCHTIEF VSB a.s.
Author: Ing. arch. Jan Línek
Ing. arch. Josef Kolář
Designer: DELTAPLAN
Finished: 2007
Investment: 6 mil. EUR
The complex is the home for 60 senior clients.
The Jewish community in Prague won the treated property in 1989 in restitution. This area adjacent to the sports club of the same name was finished in 1911 by the architect Victor Kafka. It served primarily as a hospital of the Israelite religious community in Prague during the Protectorate as the last refuge of Jews from deportation. Then as a collection camp and after the war it returned to its' use as a hospital. From 1948 it became the Department of Paediatrics University Hospital Vinohrady. The building in Prague 10 is boradered by Vinohradská street, adjoined to the Hotel Dorint Don Giovanni, the new Jewish cemetery and the new building of Radio Free Europe / Radio Liberty.
In 2004, the investor (Jewish community) invited an architectural competition of 4 teams of architects with experience of buildings of similar type. Based on studies of the possible use of the premises architect Jan Línek chose the proposal of DELTAPLAN studio, his long-term collaborator, for further development and subsequent implementation. The proposal best met the criteria of the competition in terms of operational use, architectural expression, security features and economic efficiency.
Atelier DELTAPLAN provided complete project documentation for reconstruction of the historic buildings and the completion of the modern accommodation (including special professions) in the degree of DUR, DSP and PCB. DELTAPLAN participated in the author's supervision, surveys and coordination.
In the competition The Building of the Year 2008, the construction won the prize of the President of the Senate. MD. Přemysl Sobotka personally presented this, at a gala evening at the Bethlehem Chapel, to the representatives of the investor, designer and contractor.